News
How to Choose The Right Face Serum for Your Skin Type
by Body Tales on Jan 08, 2023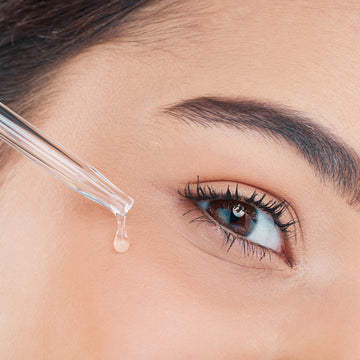 When buying skincare products, we usually get the cleanser, toner, sunscreen and moisturizer sorted out. Yes, these products help our skin, but there is one potent product that should top every skincare list— face serum – the secret product that helps your skin achieve a radiant and healthy glow effortlessly.
Now, Who doesn't want that?
Unfortunately, many things age gracefully, like wine and cheese, but not our skin. Age takes a toll on our skin, and when we don't care, we can see wrinkles, dull and dark spots, and sagging skin. The serum is that magical potion that promises to reverse and prevent some unpleasantness of dull and damaged skin.
There are, no doubt, hundreds of serums promising uncountable benefits to you, but choosing the right serum for your skin needs is nothing short of a challenge. So before jumping right into the topic, let's get to the science behind serums.+
Serums are topical products that contain concentrated formulations of active ingredients designed to quickly absorb and intensely address some of your skin complaints quickly.
Since serums are highly concentrated preparations, it is believed that the skin will absorb potentially large amounts of active ingredients. Moreover, this also helps bring about a positive change within a short period.
The serum is unlike a moisturiser, or a cleanser – serums are those small concentrated potions of powerful ingredients that your skin certainly needs.
While a cleanser cleans your skin's pores and a moisturiser hydrates, a serum does both. It is packed with anti-acne, anti-ageing, hydrating, pore minimising and brightening formula.
What benefits does your skin enjoy when you use a serum?
Your skin can benefit immensely from using a facial serum regularly. Some of the benefits are:
The serum is a strong mix of potent ingredients penetrating deep into your skin.
Unlike oils and creams that are thick and form a barrier on the surface of your skin, serum spreads easily and is quickly absorbed by the skin.
Serums have a light and fluid feel, making them seem super-light to apply.
The tiny molecules of concentrated active ingredients quickly penetrate the skin, giving immediate results.
5. Easy to Layer other Products
Serums make the skin feel light, and it helps you add layers of other products such as sunscreen, moisturiser, and foundation.
6. Reduces fine lines and wrinkles
Certain serums have ingredients that help ease fine lines, age spots and wrinkles by boosting collagen production.
7. Reduces years of Sun Damage
Some serums have ingredients such as Vitamin C, E, green tea, salicylic acids, and more. These ingredients help in reversing skin damage due to pollutants and sun exposure.
Serums are best known for reducing pores, blackheads, and whiteheads' size and appearance.
Serums help keep your skin hydrated and radiant for longer periods. In addition, it visibly improves complexion, lightens hyperpigmentation spots and eases sensitive skin.
How to select the perfect serum for your skin?
With the market flooded with facial serums, selecting one suited for your skin's specific needs is not an easy task.
Moreover, not all serums are made alike. Their work depends on their ingredients, the compound stability, formulation, usage, and your existing skin condition. Some of the more popular serums based on skin needs are:
Key Ingredients: Hyaluronic Acid, Aloe Vera, Glycerin
As the name suggests, hydrating serums are best suited for dry, oily and acne-prone dull skin. This serum applies a layer of deep hydration to the epidermal layer of the skin and is best used before applying other products.
Hyaluronic acid serums are the most popular ones, as they provide both hydration and moisturisation. As the ingredients seep deep into the cells, your skin will feel rejuvenated and plump. Unlike heavy oil-based moisturisers, serums are water-based and light, which help unclog the pores of dirt and dead cells.
The intense Hyaluronic Face Serum from Body Tales is highly recommended. It comes in 2% Hyaluronic acid concentration, which industry experts consider the best formulation.
Key Ingredients: Niacinamide, Vitamin C, Vitamin E, Ferulic Acid, Hydroxy-Acids, Kojic Acid
Vitamin C Serum contains active ingredients that reduce pigmentation and melanin production and fade dark spots and acne marks. This serum is most useful when looking to even out your skin tone and reduce dark spots. In addition, since this serum also contains light-reflecting agents, your skin will enjoy an instant glow and radiance.
Brightening serums are filled with pigment-fighting and skin-brightening antioxidants that instantly improve skin health and complexion. It also reduces stubborn scars, sun damage, and sensitive dark spots.
Key Ingredients: Retinoids, Vitamin C, Peptides, Fruit Extracts, Hydroxy Acids
Retinoids are the staples of skin that need to do away with age-induced fine lines, wrinkles, and loss of firmness.
Retinol Face Serums are a concentrated form of Vitamin A and, as such, are an excellent solution for those looking to get their skin firm and supple. However, retinol serums are concentrated solutions, and they need to be slowly introduced to your skin.
Moreover, it would help if you gave the solution some time – about two weeks – before it can show any results. This serum also helps with dark spot reduction, glow enhancement and removing the fine lines by boosting collagen production.
4. Acne Control Face Serum
Key Ingredients: Salicylic Acid, Niacinamide, AHA and BHA Serums
Acne Control Face Serum is perfect for sensitive and acne-prone skin. They help shrink large pores, remove accumulated dirt, remove the effects of tanning and act as an exfoliant. In addition, people with oily and sensitive skin can use the benefits of salicylic acid serum to regulate sebum secretion and remove blackheads, whiteheads and acne.
Niacinamide – a type of Vitamin B3 – also has a soothing and hydrating effect on sensitive and irritated skin.
5. Niacinamide Face Serum
Key Ingredients: Vitamin C, Vitamin E, Niacinamide, Green Tea, Retinoids
Regular use of Niacinamide Face Serum helps achieve youthful and healthy skin. It works by neutralizing free radicals. These free radicals are molecular fragments that attack cells by oxidation. Free radicals are usually present in UV rays, pollutants and more.
When your skin is overexposed to sun and pollutants, it causes considerable damage to your skin at a cellular level. Antioxidant serums help neutralise the effect of free radicals and reverse and prevent the signs of ageing. Ensure the serum has potent ingredients such as ferulic acid, Vitamin E, C and A.
Key Ingredients: Salicylic Acids, AHA, BHA, Glycolic Acid, Lactic Acid
Aha-Bha Face Serum boosts the skin's natural texture and improves overall skin health. These serums are typically leave-on exfoliants that deep into the skin cells, remove dead cells and excess oil, and create visibly smoother and cleaner skin.
These serums are suited for all skin types, especially those with sensitive skin can also use them as they are mild and soothing.
Serums with glycolic acid penetrate easily through the epidermal layers to work on the intercellular bonds. They help remove the build-up of dead cells, discolouration and hyperpigmentation from the cell level, which helps reveal glowing and uniform-textured skin.
The Right Way to Apply a Serum
You win half the battle by finding the right serum for your needs. The other most important part of the war is winning over the application method.
Serums are not tough to apply, as they are water-based solutions that get quickly absorbed by the skin. Yet, you should know when to apply the serum and how to combine two serums effectively.
Serums ideally go beneath heavier products such as sunscreen, moisturiser or a foundation. After cleansing your face of excess oils, you should apply the mentioned quantity of serum.
Remember, serums go right over your skin for quick and complete absorption. Since serums are highly concentrated, you must not go overboard with the quantity. Instead, always use your fingertips to rub the serum into your skin gently. You can use serums during the day and at night. Anti-ageing serums like Body Tales Age-Defying retinol serum are ideally applied at night so that they can work along with your circadian rhythm and help deliver faster benefits.
If you are choosing hydrating serums, you can apply them twice daily. However, when using antioxidant or anti-pigmentation serums, we suggest using them in the morning to protect yourself from pollutants and sun exposure.
If you are using nighttime serums, make sure there is no makeup on your skin and haven't layered up moisturisers and other products. Let your skin breathe. Use only the necessary serum so that your skin absorbs potent ingredients.
Caring for your skin shouldn't be too much work. It should be easy, natural and relaxing. So whether you go the ten-step Korean skincare way or stick to the simple CTM, we urge you to take up a serum for your needs. Go for someone reliable like Bodytales – who knows what they are doing.
Make using serum a part of your routine, and you will have the blemishless, glowing and youthful skin you always wanted. With serum, skincare is that simple.