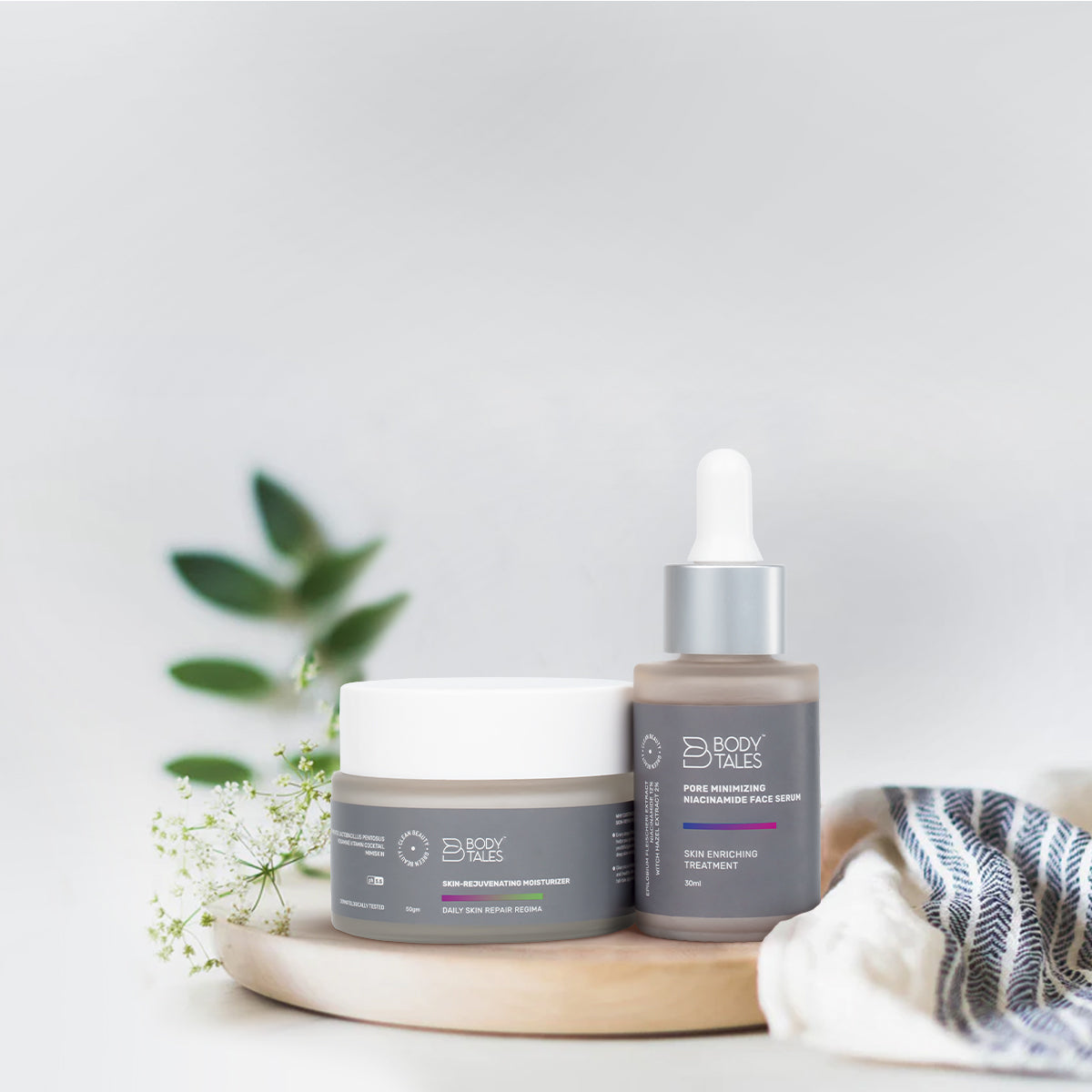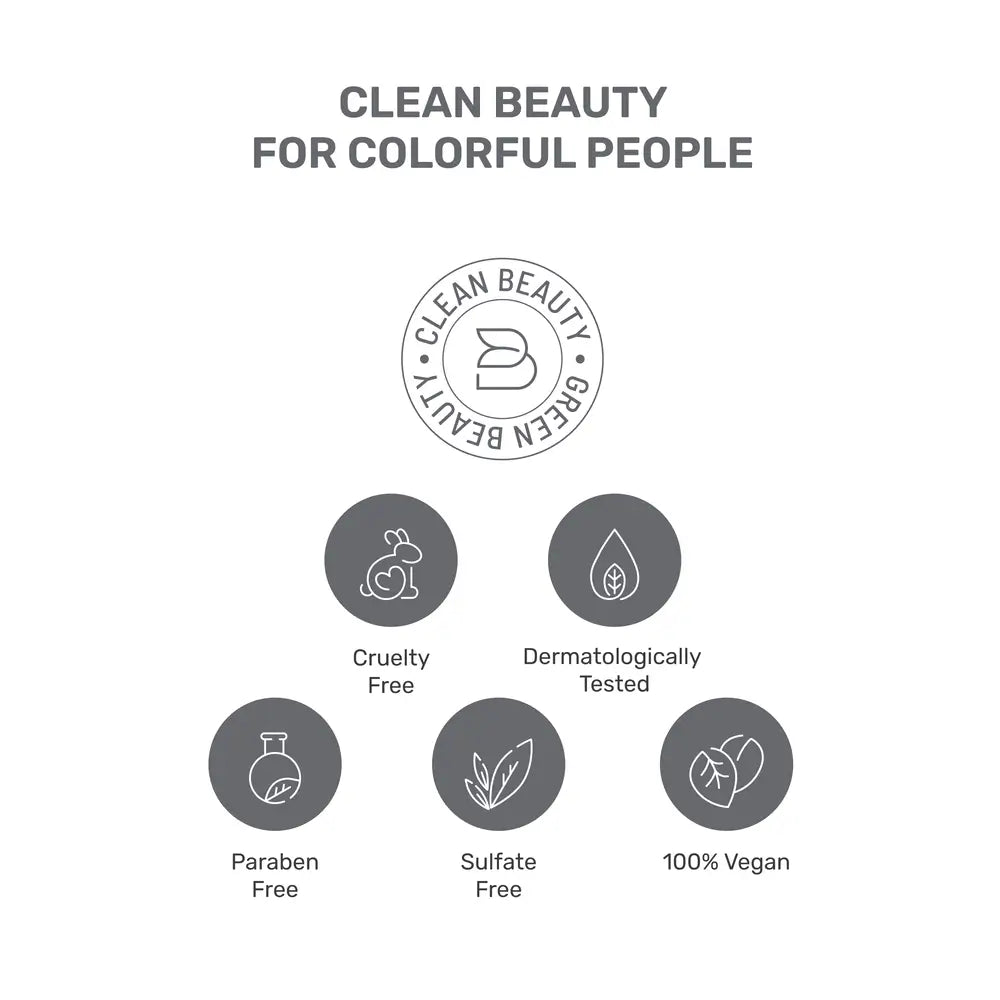 Regular price
Rs. 1,199.00
Sale price
Rs. 1,199.00
Regular price
Tax included.
Pore Minimizing Duo
Regular price
Rs. 1,199.00
Sale price
Rs. 1,199.00
Regular price
Product Description
Additional Information
Reviews
SKIN ENRICHING TREATMENT – Get the nourishment and hydration your skin needs with this super-powerful Skin-vitalizing Pore Minimizing Face Serum that boosts skin immunity by promoting protein synthesis and reducing sebum production. By removing mild to severe acne marks and dark spots, this Niacinamide Serum allows you to enjoy smooth, even-toned spotless skin.
SKIN REJUVENATING MOISTURIZER – This lightweight moisturizer is the perfect choice for restoring skin's natural elasticity, glow and hydration. This cream gently clears the pores of dust, sun damage, makeup, excess oils and dead cells. The potent cocktail of Rosamine Vitamins and collagen boosting agents in this cream slows down skin aging, repairs years of damage and quickly restores youthful glow.
Pore Minimizing Niacinamide
Face Serum
Skin Rejuvenating Moisturizer
Why Customers Love
Our Product :
Paraben-Free, Sulfate-Free, Silicon-Free, No Artificial Fragrance, GMO-Free, Cruelty-Free, 100% Vegan, Toxic-Free, Dermatologically Tested, PH 5.5, Made With ECOCERT COSMOS Certified Ingredient & USDA Organic Oils.
Perfect for daily use. Avoid eye contours. For external use only.
Benefits
Epilobium extract recovers dry and damaged hands, reduces skin dryness, inflammation and helps treating acne. Reduces skin pores: niacinamide is a water-soluble vitamin that works with the natural substances in your skin to help visibly minimise enlarged pores, tighten lax pores, and improve uneven skin tone.
Topical niacinamide also helps to trap in just the right amount of sebum —the skin's natural oil— hydrating your skin.The antioxidants contained in niacinamide help to eliminate the free radicals responsible for skin's aging, restoring and brightening your skin in the process.
3. Reduces Hyperpigmentation
Hyperpigmentation is usually caused by cumulative exposure to the sun, an increase in hormone production, or a combination of those factors. Niacinamide helps to reduce the production of melanin by inhibiting its creation at the cellular level.
4. It Serves All Purposes
Our skin repairing cream serves all purposes like it brightens up skin tone, repairs skin cells damage, gives your skin a glowing look and hydrates your skin. It is an all in one product that is a must.
5. Revitalize Cell Growth
Rosamine vitamin present in this cream increases oxygen flow making the skin firm and smooth. It also revitalizes cell regrowth and protects your skin from premature aging.
6. Cleanse The Effect Of Pollutants
Mimiskin present in this product preserves moisture, repairs complexion and brings up the natural barrier to optimal condition. It helps the effect of pollutants and gives high level of adhesiveness and compatibility to skin.
| | |
| --- | --- |
| Skin Concerns It Targets | Open Pores, Oily Skin, Acne Marks |
| Suitable For | All Skin Types |
| Hero Ingredients | Fermented Lactobacillus Pentosus, Rosamine Vitamin Cocktail, Mimiskin, Epilobium Fleischeri Extract, Niacinamide 12%, Witch Hazel Extract 2% |
| Fermented Lactobacillus Pentosus | Fermented Lactobacillus Pentosus is a balanced microbe that helps to reduce eczema, dry skin and wrinkles. It improves skin's barrier and reduces acne. |
| Rosamine Vitamin Cocktail | Rosamine Vitamin Cocktail increases oxygen flow making the skin firm and smooth. It also revitalizes cell regrowth and protects premature aging and prevents irritation. |
| Mimiskin | Mimiskin preserves moisture, repairs complexion and brings up the natural barrier to optima condition. It helps to cleanse the effect of pollutants and gives high level of adhesiveness and compatibility to skin. |
| Epilobium Fleischeri Extract | Epilobium Fleischeri Extract recovers dry and damaged hands, reduces skin dryness, inflammation and helps in treating acne. |
| Niacinamide | Niacinamide keeps the skin firm and healthy, it protects skin from environmental stresses, such as sunlight, pollution, and toxins. Niacinamide treats severe acne, especially inflammatory papules, and pustules. |
| Witch Hazel Extract | Witch Hazel Extract helps reduce swelling, repair broken skin and fights bacteria. It reduces acne and removes excess oil. It tightens pores and helps with razor bumps. It also reduces swelling and fights off bacteria. |