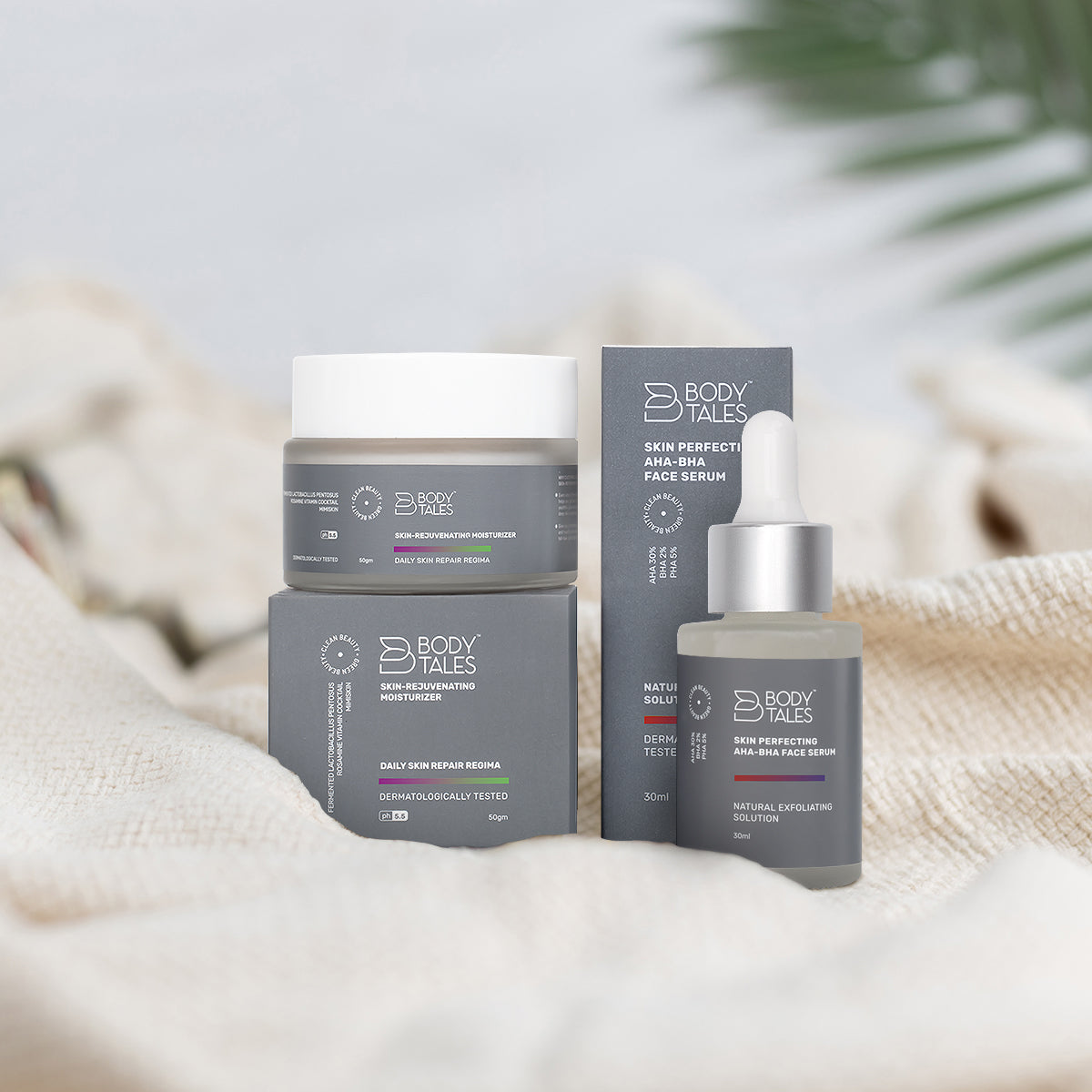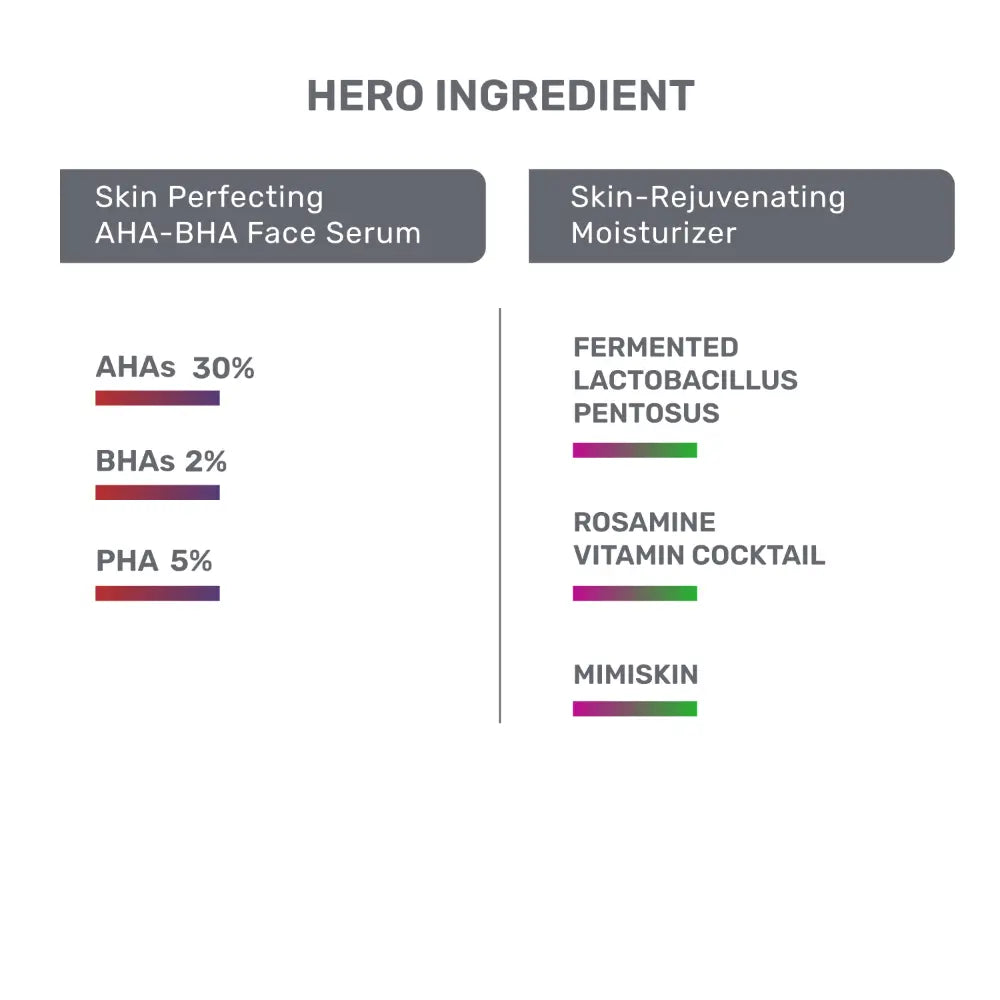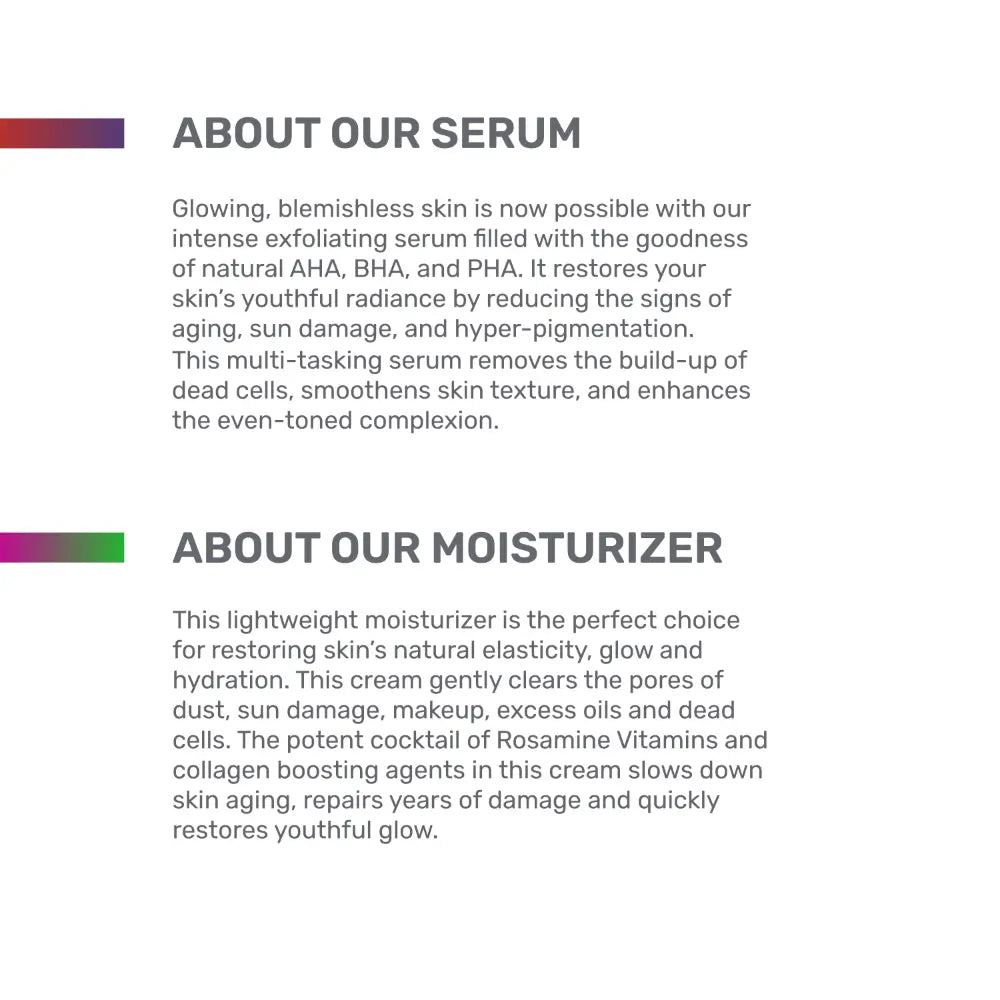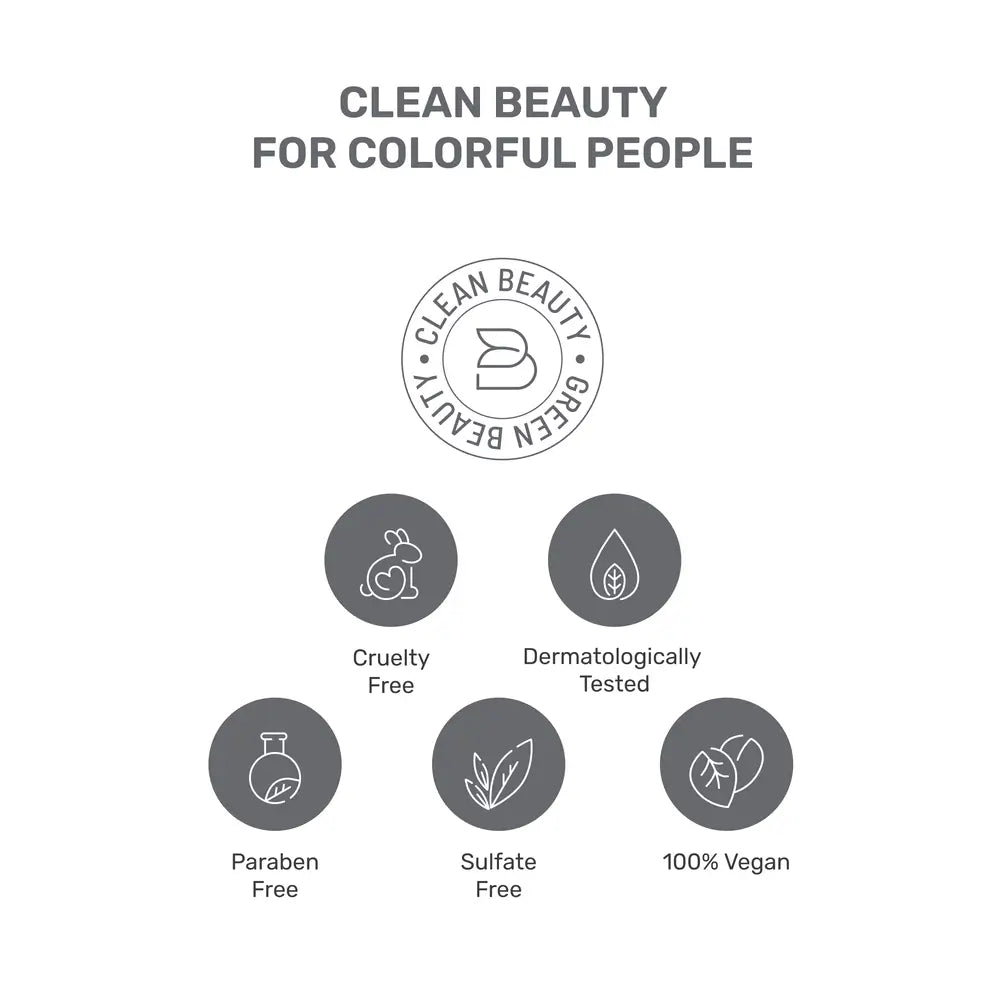 Regular price
Rs. 1,199.00
Sale price
Rs. 1,199.00
Regular price
Tax included.
Skin Exfoliator Duo
Regular price
Rs. 1,199.00
Sale price
Rs. 1,199.00
Regular price
Product Description
Additional Information
Reviews
SKIN PERFECTING AHA-BHA FACE SERUM – Glowing, blemishless skin is now possible with our intense exfoliating serum filled with the goodness of natural AHA, BHA, and PHA. It restores your skin's youthful radiance by reducing the signs of sun damage, and hyperpigmentation. This multi-tasking serum removes the build-up of dead cells, smoothens skin texture, and enhances the even-toned complexion.
SKIN REJUVENATING MOISTURIZER – This lightweight moisturizer is the perfect choice for restoring skin's natural elasticity, glow and hydration. This cream gently clears the pores of dust, sun damage, makeup, excess oils and dead cells. The potent cocktail of Rosamine Vitamins and collagen boosting agents in this cream slows down skin aging, repairs years of damage and quickly restores youthful glow.
Skin Perfecting Aha-Bha Face Serum
Skin Rejuvenating Moisturizer
Why Customers Love
Our Product :
Paraben-Free, Sulfate-Free, Silicon-Free, No Artificial Fragrance, GMO-Free, Cruelty-Free, 100% Vegan, Toxic-Free, Dermatologically Tested, PH 5.5, Made With ECOCERT COSMOS Certified Ingredient & USDA Organic Oils.
Perfect for daily use. Avoid eye contours. For external use only.
Benefits
AHAs (Glycolic acid and lactic acid mandelic acid ) exfoliates the skin and helps fight visible blemishes, textural irregularities, dullness, and targets uneven skin tones.
2. Helps Clearing Out White Heads And Black Heads
Our serum helps clearing out all the black and white – – heads as it helps unclog your pores and removes dead skin cells.
3. Boosts Skin Cell Regeneration
PHA helps in getting even skin tone and texture as it exfoliates dead skin cells on the surface. It reduces hyperpigmentation and hydrates your skin along with boosting skin cell regeneration.
4. It Serves All Purposes
Our skin repairing cream serves all purposes like it brightens up skin tone, repairs skin cells damage, gives your skin a glowing look and hydrates your skin. It is an all in one product that is a must.
5. Revitalize Cell Growth
Rosamine vitamin present in this cream increases oxygen flow making the skin firm and smooth. It also revitalizes cell regrowth and protects your skin from premature aging.
6. Cleanse The Effect Of Pollutants
Mimiskin present in this product preserves moisture, repairs complexion and brings up the natural barrier to optimal condition. It helps the effect of pollutants and gives high level of adhesiveness and compatibility to skin.
| | |
| --- | --- |
| Skin Concerns It Targets | Skin Soothing, Uneven Skin Tone, Dark Spots, Dry Skin, Dull Skin, Skin Inflammation, Dead Skin, Dark Elbow, Neck, Back, Knees |
| Suitable For | All Skin Types |
| Hero Ingredients | Fermented Lactobacillus Pentosus, Rosamine Vitamin Cocktail, Mimiskin, AHA 30%, BHA 2%, PHA 5% |
| Fermented Lactobacillus Pentosus | Fermented Lactobacillus Pentosus is a balanced microbe that helps to reduce eczema, dry skin and wrinkles. It improves skin's barrier and reduces acne. |
| Rosamine Vitamin Cocktail | Rosamine Vitamin Cocktail increases oxygen flow making the skin firm and smooth. It also revitalizes cell regrowth and protects premature aging and prevents irritation. |
| Mimiskin | Mimiskin preserves moisture, repairs complexion and brings up the natural barrier to optima condition. It helps to cleanse the effect of pollutants and gives high level of adhesiveness and compatibility to skin. |
| AHA | AHA exfoliates the skin and helps fight visible blemishes, textural irregularities, dullness and targets uneven skin tones. |
| BHA | BHA helps remove dead skin cells, reduces the appearance of wrinkles and improves skin texture. It also helps prevent acne and sun damage by unclogging your pores. |
| PHA | PHA helps in getting even skin tone and texture as it exfoliates dead skin cells on the surface. It reduces hyperpigmentation and hydrates your skin along with boosting skin cell regeneration. |