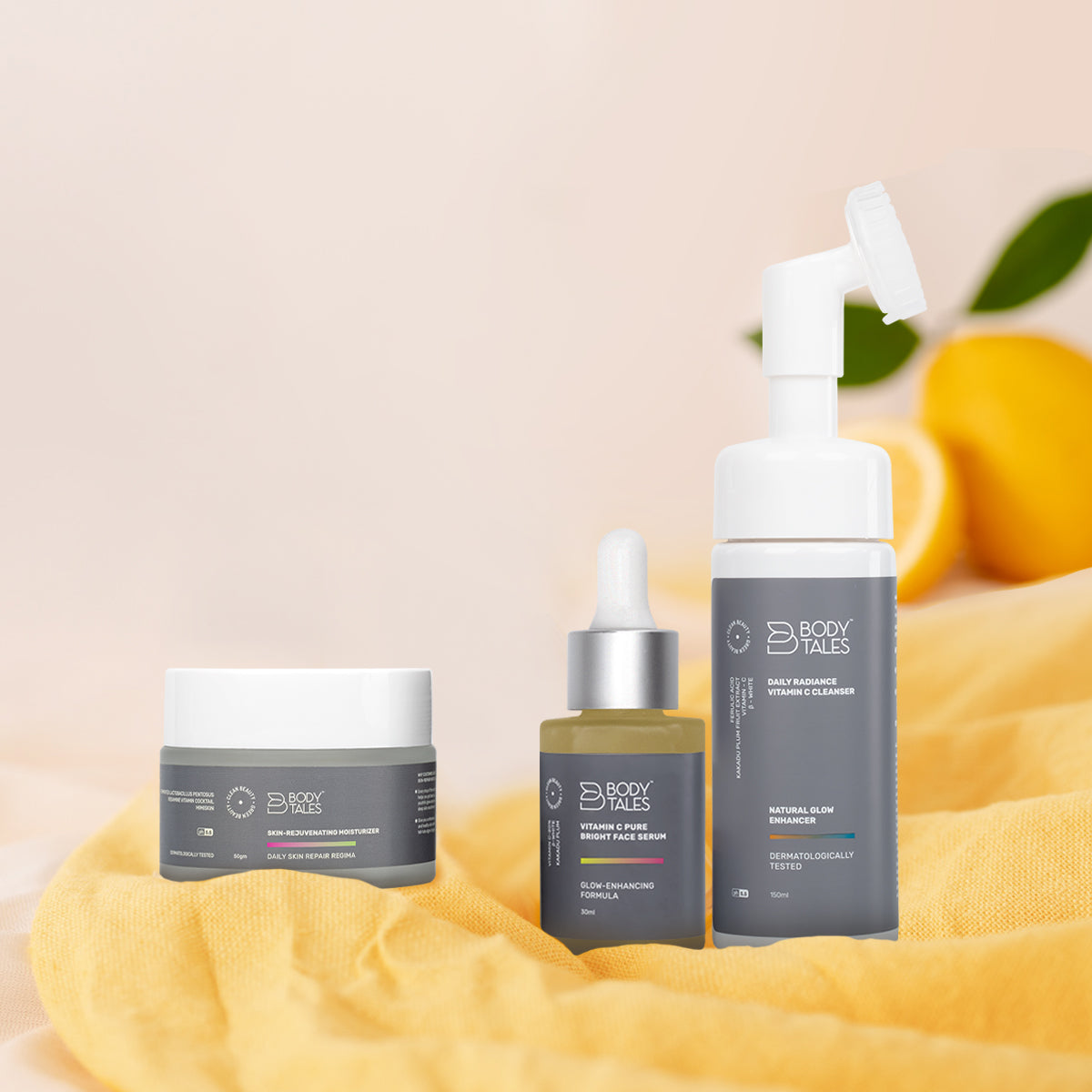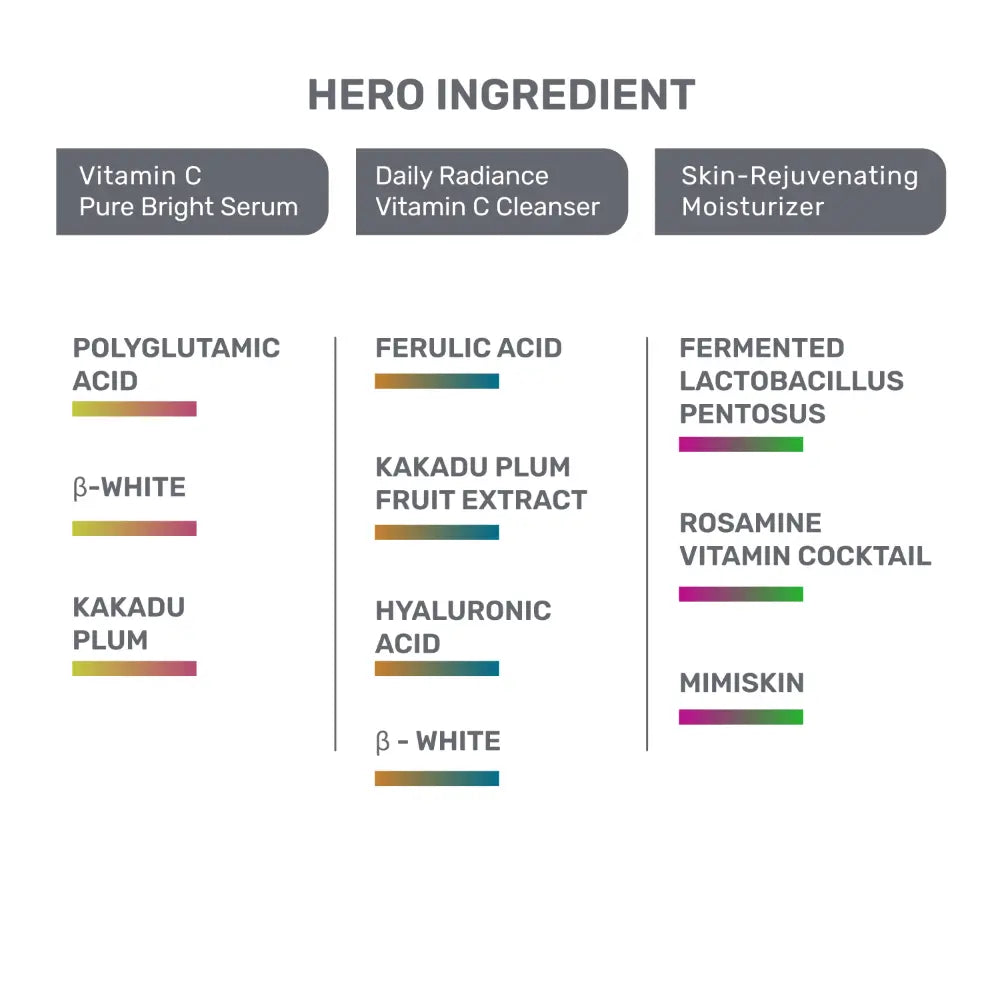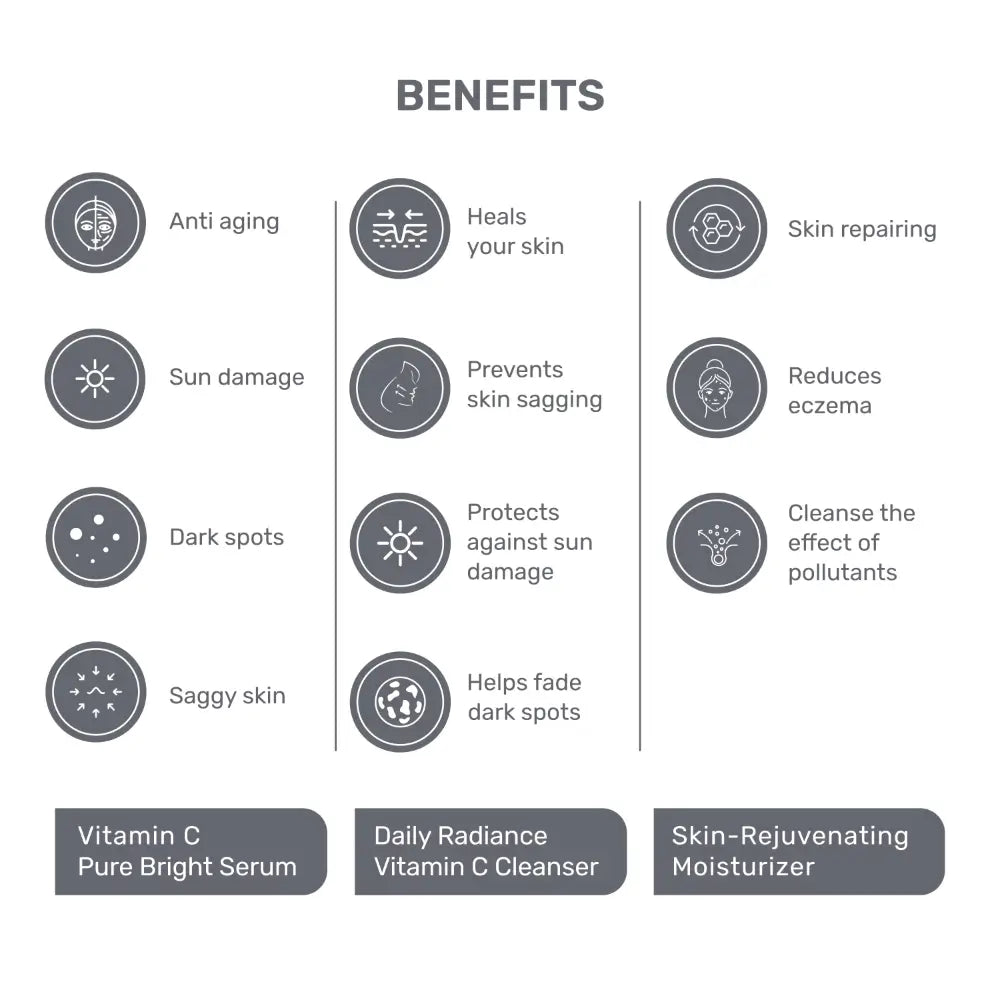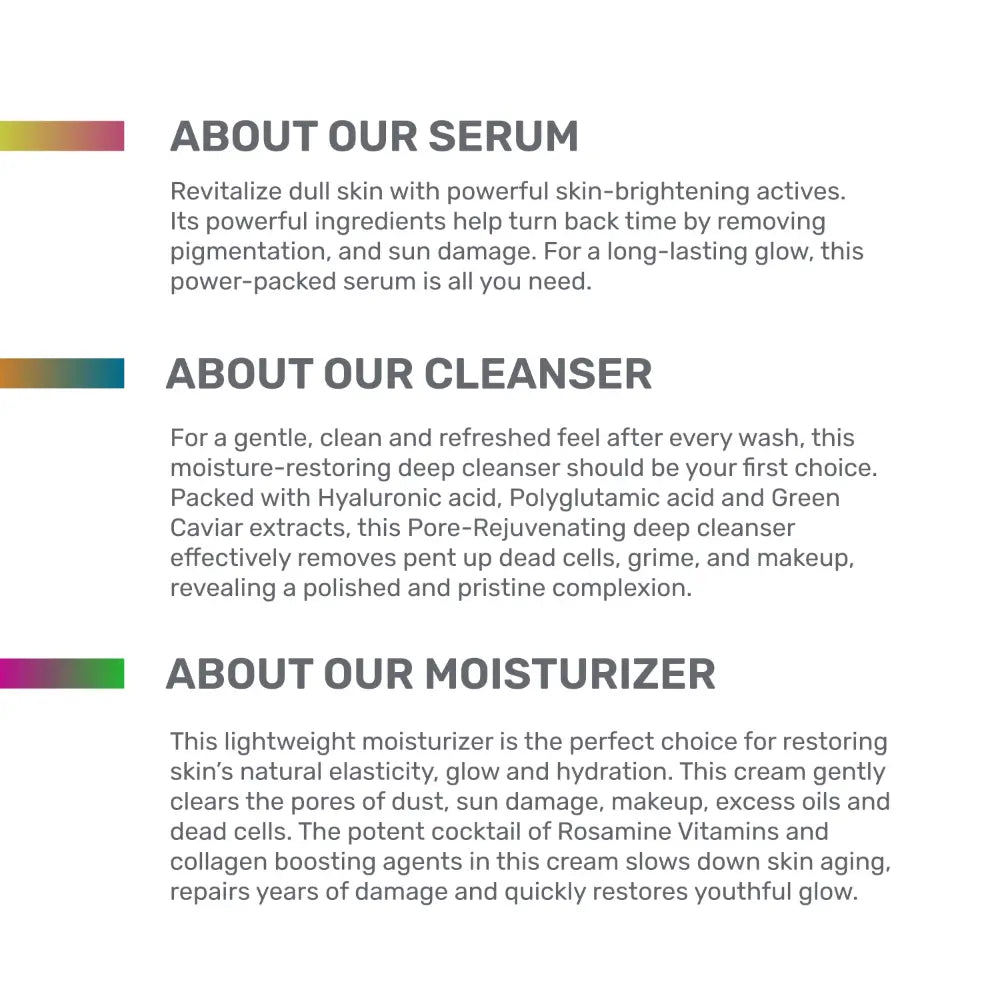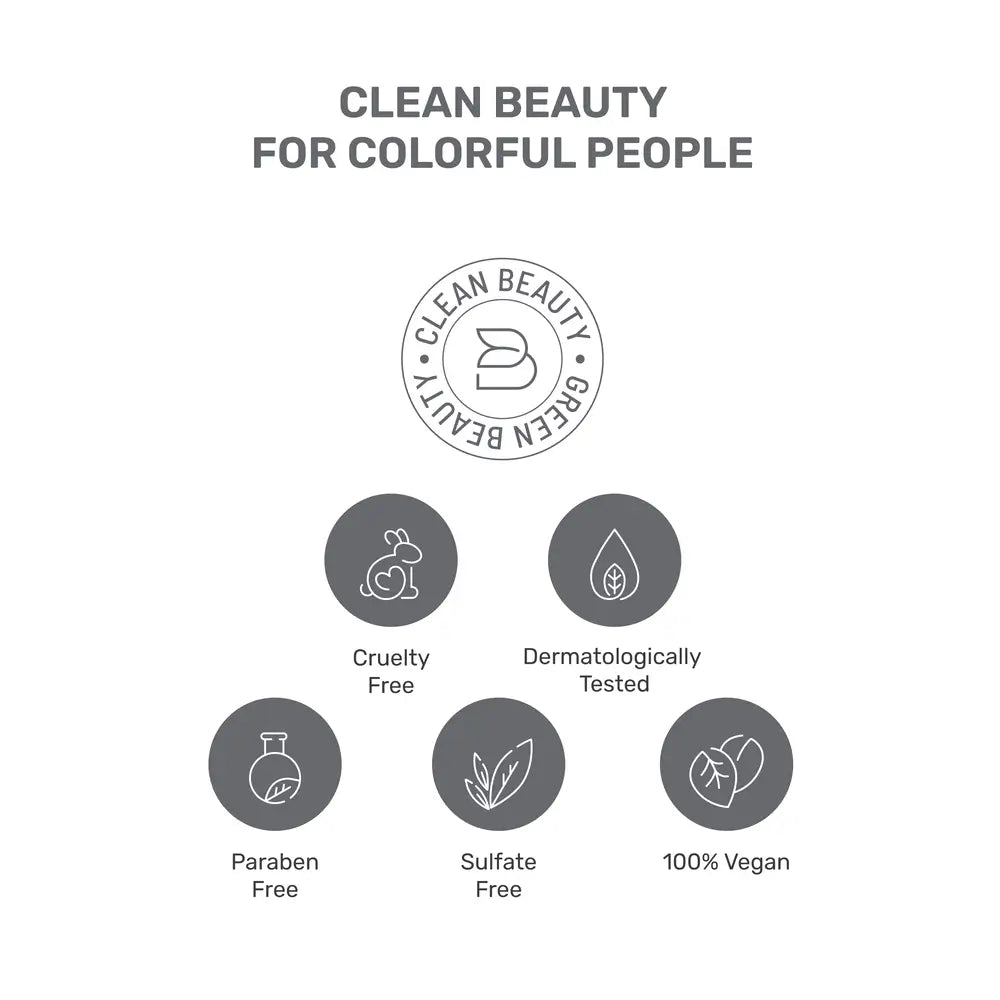 Regular price
Rs. 1,749.00
Sale price
Rs. 1,749.00
Regular price
Tax included.
Skin Glowing Combo
Regular price
Rs. 1,749.00
Sale price
Rs. 1,749.00
Regular price
Product Description
Additional Information
Reviews
DAILY RADIANCE VITAMIN C CLEANSER –
 Revitalize dull skin with powerful skin-brightening actives. Its powerful ingredients help turn back time by removing pigmentation, and sun damage. For a long-lasting glow, this power-packed serum is all you need.
VITAMIN C PURE BRIGHT FACE SERUM –
 A gentle deep-cleaning foaming cleanser should be a part of your daily beauty regimen. Vitamin C ensures dullness and wrinkles causing free radicals are kept in check and reverses the effects of aging and sun damage to reveal a spotless and even-toned complexion. Use this daily for a visibly clean and radiantly clear skin.
SKIN REJUVENATING MOISTURIZER –
 This lightweight moisturizer is the perfect choice for restoring skin's natural elasticity, glow and hydration. This cream gently clears the pores of dust, sun damage, makeup, excess oils and dead cells. The potent cocktail of Rosamine Vitamins and collagen boosting agents in this cream slows down skin aging, repairs years of damage and quickly restores youthful glow.
| | |
| --- | --- |
| Skin Concerns It Targets | Uneven Skin Tone, Dark Spots, Hyperpigmentation, Sun Damage, Dull Skin, Skin Soothing, Dry Skin, Skin Inflammation |
| Suitable For | All Skin Types |
| Hero Ingredients | Fermented Lactobacillus Pentosus, Rosamine Vitamin Cocktail, Mimiskin, Ferulic Acid, Kakadu Plum Fruit Extract, Vitamin C, β White |
| Fermented Lactobacillus Pentosus | Fermented Lactobacillus Pentosus is a balanced microbe that helps to reduce eczema, dry skin and wrinkles. It improves skin's barrier and reduces acne. |
| Rosamine Vitamin Cocktail | Rosamine Vitamin Cocktail increases oxygen flow making the skin firm and smooth. It also revitalizes cell regrowth and protects premature aging and prevents irritation. |
| Mimiskin | Mimiskin preserves moisture, repairs complexion and brings up the natural barrier to optima condition. It helps to cleanse the effect of pollutants and gives high level of adhesiveness and compatibility to skin. |
| Ferulic Acid | Ferulic acid helps in healing skin and reduces dark spots. It protects the skin integrity and gives you firmer and more toned skin. It helps regenerate skin cells making the skin look brighter and younger. |
| Kakadu Plum Fruit Extract | Kakadu Plum Fruit Extract reduces the symptoms of aging, reducing dark circles and puffiness under the eyes. It helps in acne-reduction and is helpful in infection of skin causes itching, redness, rashes and even lesions in extreme cases. |
| Vitamin C | Vitamin C protects skin cells from getting damaged by UV exposure, It helps hyperpigmentation and evens out skin tone. It also prevents aging and enhances skin elasticity and youthfulness. |
| β White | β(Beta) White reduces the appearance of age spots and brightens the skin complexion. It helps to improve skin tone and is primarily age-defying. |