News
6 Best Face Serums to Add to Your Skincare Routine
by Body Tales on Jan 08, 2023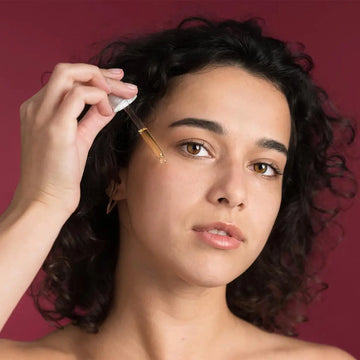 6 Best Face Serums to Add to Your Skincare Routine
Whether you are just dabbling in beauty care or are the go-to friend for beauty care advice, you must have heard of this super-beneficial ingredient – Vitamin C.
The answer to the question "do I really need to add a face serum to my cosmetic routine?" is a resounding "yes." Face serums help you seem immaculate when you wake up by battling ageing and environmental damage. One of the best things you can do to attain soft, youthful skin is to use products that have the capacity to boost collagen production.
We completed the study for you since we realise that one serum does not fit all. The top face serums are listed here based on your selection for skin texture and skin concerns. These serums work wonders on a variety of skin types, including dry, oily, sun-damaged, and fine lines.
6 Different Types Of Serum Present That Should Be Included In Your Skincare Routine
Most people know about facial serums for their incredible anti-aging properties. With the help of these serums, the most common signs of ageing can be addressed, and the ageing process can be slowed down. They tighten and plump the skin while addressing any existing wrinkles, sagging, or fine lines.
Anti-aging serums also emphasise enhancing cell renewal, cell repair, and higher cell turnover. This promotes skin renewal and generally improves the appearance and texture of the skin. Retinol, a vitamin A derivative, is a popular and well-known substance for its potent anti-aging properties. It promotes cell turnover, boosts the formation of collagen and elastin, stops the loss of collagen, firms, and hydrates or fluff up the skin.
Bodytales age-defying retinol face serum provides the combination of retinol and bakuchi oil refines skin texture, eliminates age-related fine wrinkles and sun-induced pigmentation. This Youth-Restoring Retinol Serum is a potent elixir for people looking to get radiant and polished skin because it alters old cells and eliminates discolouration.
2. Skin Brightening Serums
Another significant appeal of face serums is their potential to brighten dull skin. Brightening serums can smooth your skin, remove age or sunspots, even out skin tone, and lessen hyperpigmentation. Your skin will now have a healthy, glowing glow.
These specific serums might include antioxidants like vitamin E and vitamin C or extracts like grapefruit, licorice root, and green tea. Kojic acid, ferulic acid, peptides, and light reflectors or optical diffusers are additional ingredients for lightening and brightening that instantly give you a flawless radiance.
Bodytales Skin Plumping Hyaluronic Face Serum is filled with hydrating and nourishing ingredients. It brightens the skin and gives it a new glow. This skin-plumping face serum promotes surface hydration, increases cellular moisture, and delays the appearance of fine lines and wrinkles. For beautiful, polished skin, incorporate this hyaluronic acid serum into your everyday beauty routine.
Serums that fight acne can be the solution to finally put an end to bothersome breakouts of acne.
When an outbreak is already eye-deep, we often treat acne in a reactionary approach. Actually, the aim is to stop breakouts before they start. Serums are ideally situated to accomplish that.
Small molecules used in their formulation enable them to deliver powerful active substances deep within the skin. Face cleansers and creams, on the other hand, tend to work more on the skin's surface. Before they even begin, acne outbreaks can be prevented with serums. While gently removing any buildup of dead skin cells, they can also help fade acne scars.
Serums designed to treat acne tighten skin, unclog pores, reduce their size, absorb extra oil, and lessen any redness or irritation. Salicylic acid, alpha- and beta-hydroxy acids (AHA and BHA), glycolic acid, citric acid, zinc, and plant extracts like tea tree, thyme, cucumber, and green tea are all effective acne-fighting substances.
Bodytales Acne Control Face Serum's potent acne-repair ingredients reach deep under the skin to gently treat mild to severe acne, dark patches, hard-to-get blackheads, and whiteheads. This Anti-Acne Serum, which is made with Salicylic Acid and Acne Buster, is ideal for skin that is clearly clear and looks healthy.
Moisturizers and lotions occasionally fall short when your skin is dry and dehydrated. Face serums can be useful in these situations but they, however, shouldn't be used in place of your everyday moisturiser. They reinforce the moisturising properties of your moisturiser by working together. These specific face serums give an additional layer of moisture by penetrating your pores deeply.
Applying your moisturiser should come after using your serum because it aids seal in these healthy components. Look for nutrients like Argan oil, glycerin, hyaluronic acid, aloe vera, rosehip oil, ceramide, rosewater, sea kelp, jojoba, and vitamin E to help quench the skin's thirst.
Bodytales Pore Minimizing Niacinamide Face Serum provides hydration and nourishment to the skin. with this incredibly potent Skin-vitalizing Pore Minimizing Face Serum, which promotes skin immunity by stimulating protein synthesis and lowering sebum production, you can give your skin the nourishment and hydration it needs. You may have clear, even-toned skin free of spots and marks thanks to this niacinamide serum's ability to eliminate mild to severe acne marks and dark spots.
Because exfoliating offers so many advantages for the skin, it has a specific position in our skincare regimen. An exfoliating serum acts to even out skin tone, reduce fine lines and wrinkles, and treat hyperpigmentation and discoloration brought on by sun damage and ageing.
As we age, our skin produces less collagen and elastin and is far less effective in removing dead skin cells. Dead skin cell buildup causes a layer to accumulate, resulting in dull, dry, and cracked skin. Because they aren't being effectively absorbed, it becomes more prone to irritation, is less protected, and reduces the effectiveness of your other cosmetic products. Using exfoliating serums is a simple approach to make sure your skin is healthy and performing at its best.
They also aid in pore cleaning and acne prevention. Alpha hydroxy acids like glycolic acid or lactic acid, retinol, enzymes from plant or fruit extracts, and citric acid are essential components in exfoliating face serums.
Bodytales Skin Perfecting Aha-Bha Face Serum thoroughly exfoliates the skin deeply and By minimising the effects of ageing, sun damage, and hyperpigmentation, it brings back the young glow of your skin. This multipurpose Aha Bha Face Serum improves the evenness of the complexion, smoothes the skin's texture, and eliminates dead cell buildup.
6. Renewing And Reparative Skin Serums
Face serum works to heal and rejuvenate skin just as well as it fights ageing. In essence, face serum can turn back the hands of time and bring back the radiant youth we all long for.
You have that smooth, dewy skin that we all in our teens and early 20s simply took for granted. With all that it endures on a daily basis, year after year, our face is a trooper. And it does develop some honourable battle scars as we pass through the elements and the passage of time.
Even a small amount of regular exposure to the sun's harmful UV rays can harm your skin. Our skin is put under additional strain by the varying seasons, regular makeup application and removal, and—worse—sleeping in it.
All of this causes our skin to develop wrinkles, fine lines, blotchy patches, discolouration, acne scars, and sun damage. This is the time we enlist some beauty support for our attractive but worn-out skin.
Face serum has the power to easily regenerate, mend, and shield your skin from all abrasions. Face serums that are reparative and renewing encourage the skin's natural repair processes so that your skin can recover from the inside out.
Bodytales Vitamin C Pure Bright Face Serum revitalizes dull skin with potent skin-brightening ingredients. With the removal of pigmentation and UV damage, its potent components help turn back the hands of time. This potent Vitamin C Face Serum is all you need for a long-lasting glow.