News
How to Remove Pigmentation & Dark Spots from Face Permanently?
by Body Tales on Jan 08, 2023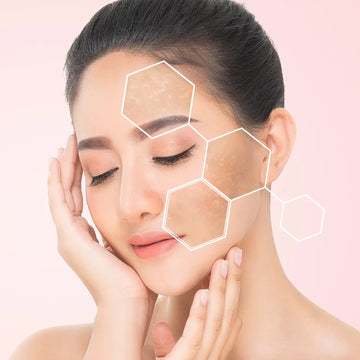 How to Remove Pigmentation & Dark Spots from Face Permanently?
What do you mean by pigmentation?
The medical term for a benign skin condition that causes the skin on various body areas to darken is pigmentation. Freckles, under-eye bags, acne scars, and UV damage are all considered to be pigmentation, which is a broad phrase.
The colour of the skin is referred to as "pigmentation." Skin pigmentation issues alter the colour of your skin. Melanin, a pigment that gives skin its colour, is created by skin cells.
Hyperpigmentation, a condition, will cause your skin to darken. This could affect every part of your body or just some parts. The age spots, often called liver spots, are frequently hyperpigmented.
Although hyperpigmentation is mostly benign, it can occasionally be caused by an underlying medical condition. Some medications can also cause your skin to darken. It's more of an aesthetic issue for the majority of people.
What Leads to Face Pigmentation?
The two main causes of pigmentation are sun damage and heredity, although there are other causes as well, including :
How Can I Permanently Remove Pigmentation From My Face At Home?
If you want to get rid of scars and dark spots on your face, consider applying aloe vera gel to it.
Because aloe vera includes an element that decreases dark spots called aloin, many people think it's one of the best substances for eradicating pigmentation from the face and lightening scars and dark spots.
Aloe vera can help to get rid of old skin cells and encourage the growth of new ones. Before going to bed, apply some fresh Aloe vera gel to your pigmentation-prone skin and let sit overnight. To achieve success, stick with this procedure for two to three weeks.
Want to swiftly get rid of the dark spot? Use apple cider vinegar to cure dark spots and retain the colour of your skin because it has acetic acid and other natural bleaching characteristics.
Green tea extract used topically to the skin may have a depigmenting effect, according to certain sources. You can buy green tea extract; follow the directions on the bottle. The advice given on some websites to use green tea bags to lighten black stains is unsupported by any evidence.
Try these things if you want to give it a shot:
Three to five minutes of boiling water should be used to steep one green tea bag. Remove the tea bag from the water and allow it to cool to prevent skin burning. The tea bag will conceal your dark spots.
Until you notice results, repeat once every two hours.
The most common treatment to lighten dark skin and remove skin tags safely and effectively without any side effects is turmeric.
Additionally, turmeric has powerful antimicrobial capabilities that can filter blood and fend against infections. Turmeric also significantly contributes to the reduction of melanin, the pigment that gives dark skin its colour, and transforms dark skin into gorgeous, glowing skin.
5. Masoor Dal (Red Lentils)
Base of red lentils Masks made from masoor dal are popular for treating hyperpigmentation. Although there is no evidence to back these claims, red lentils are a good source of antioxidants, which are known to be good for the skin.
Making a homemade masoor dal mask involves:
Red lentils weighing 50 grammes should soak in water all night.
In a food processor or blender, create a fine paste.
After evenly applying the paste on your face, leave it on for 20 minutes.
After rinsing, use a towel to pat your skin dry.
Moisturizing ingredients in milk and curd help to lighten dark spots and give your skin a healthy glow. Due to their de-tan agents, milk and curd can also be used to make face treatments that remove pigmentation and acne scars.
Hyperpigmentation Prevention Strategies
Although not all causes of hyperpigmentation can be prevented, there are a number of steps you may take to prevent some of them :
When the sun is at its brightest, between 10 am and 2 pm, try to stay out of it. Sit in the shade or under a sun umbrella when you're outside to lessen your exposure to the sun.
To protect your face and scalp, put on a hat with a wide brim.
You should include Vitamin C in your skincare routine. With powerful anti-aging and skin-brightening abilities, vitamin C is a nutrient-rich antioxidant that, among other things, aids in the battle against free radicals and lessens the negative effects of excessive sun exposure.
Don't Touch Your Skin Too Much
It's advised to avoid touching your skin because picking at a mosquito bite or other skin irritation can lead to inflammation and darker skin pigmentation on your face. Before touching your skin to apply makeup or skin care products, be sure to wash your hands.
Certain drugs and cosmetics can help make dark spots appear lighter, which may also help make the brownish hyperpigmented areas on your face less noticeable. You might attempt a few of the following:
Clinical studies have demonstrated that this strong skincare ingredient, often known as vitamin B3, can minimise the appearance of hyperpigmentation and balance out skin tone. Choose Bodytales pore minimising niacinamide serum to improve your radiance. To protect your skin from the sun, one of the possible causes of hyperpigmentation, this product also features SPF.
By increasing skin's regular cell regeneration, retinol, one of the most well-liked ingredients in the past ten years, might assist to minimise the appearance of dark pigmentation spots. Use Bodytales Age Defying Retinol Face Serum, which blends Bakuchi oil and retinoid complex in a potent proprietary recipe. You can use it at night to make fine lines, wrinkles, and dark spots less noticeable in the morning.
For a complexion that is more uniformly toned, use a vitamin C-containing lotion to help hyperpigmentation marks disappear. Vitamin C Face Serum makes drab skin glow, makes use of powerful skin-brightening ingredients. By eliminating pigmentation and UV damage, its potent components help to turn back the hands of time.
Patches of hyperpigmentation are most commonly caused by sun damage, which you may greatly reduce by using SPF and avoiding direct sunlight. Using products with components like retinol or niacinamide can help cure darker skin pigmentation.