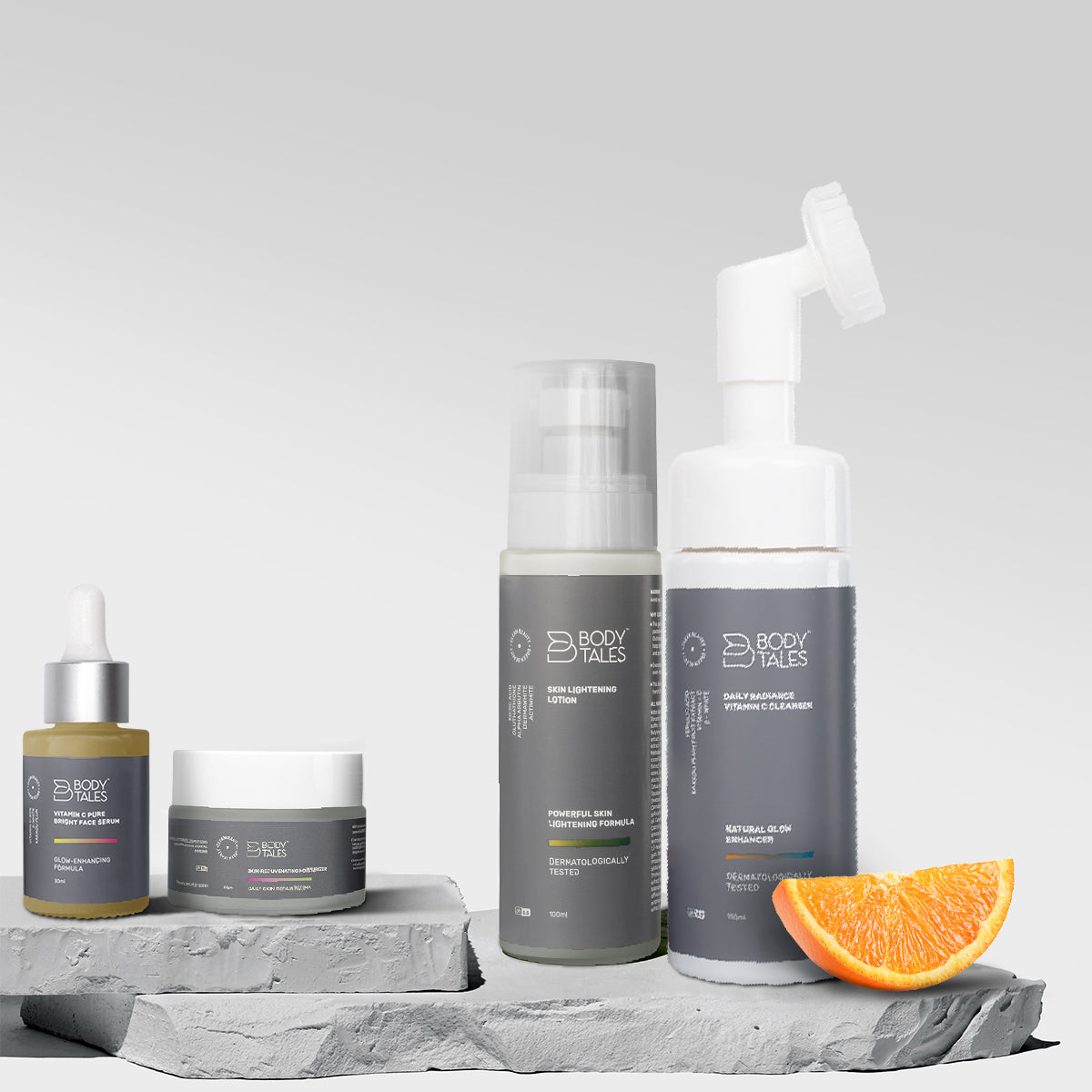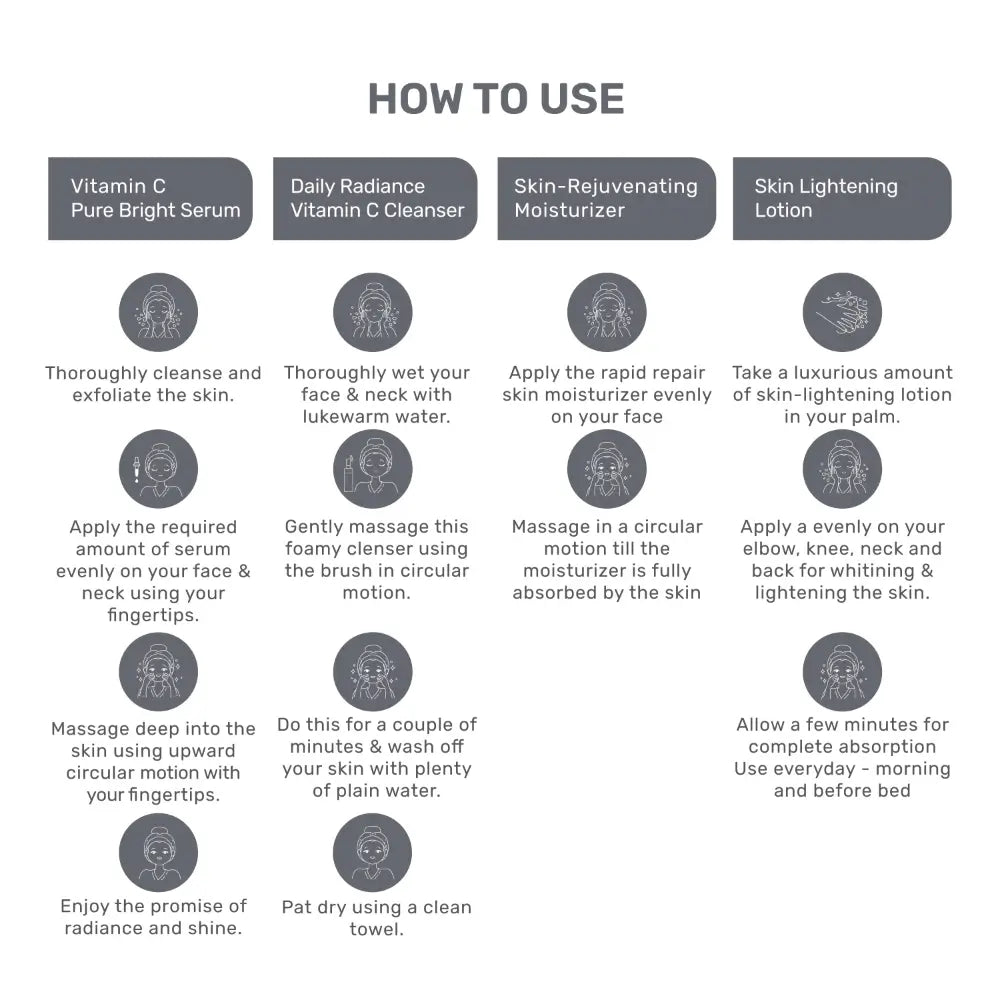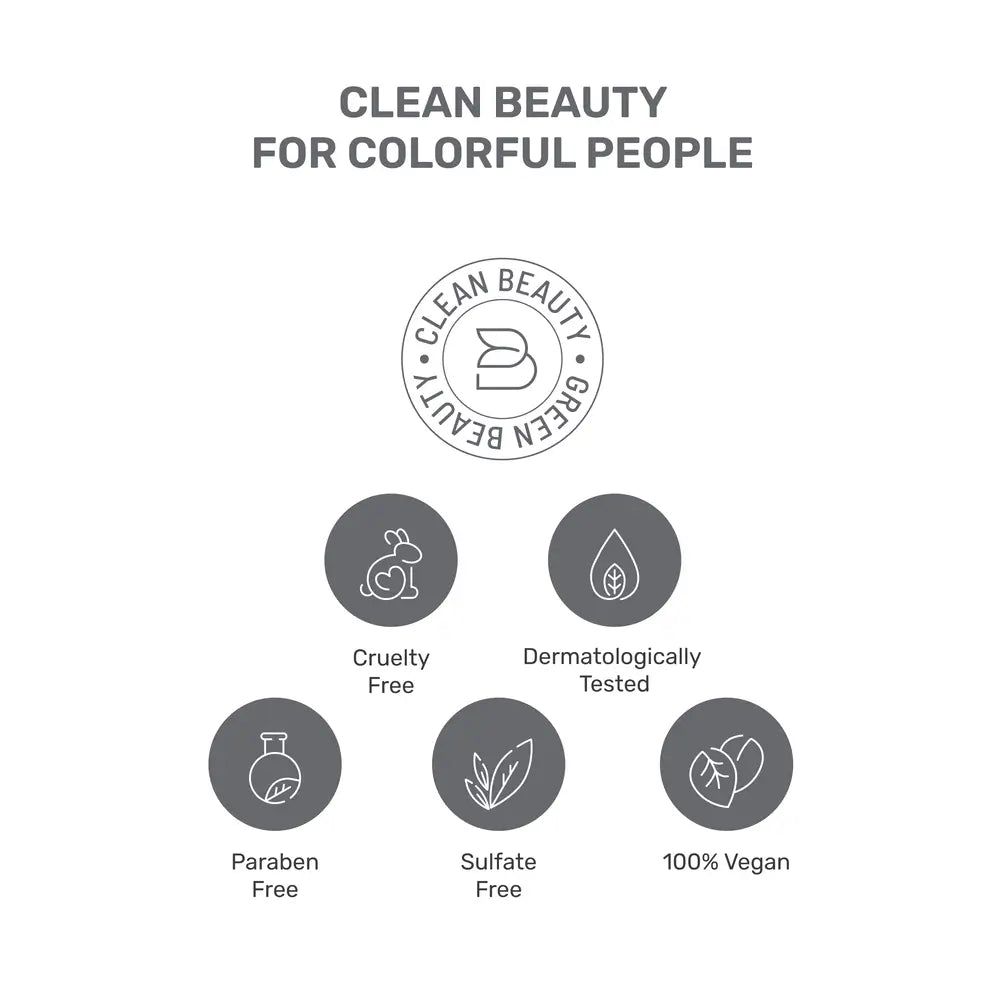 Universal C Skin Refiner Kit
Regular price
Rs. 2,349.00
Sale price
Rs. 2,349.00
Regular price
Tax included.
Universal C Skin Refiner Kit
Regular price
Rs. 2,349.00
Sale price
Rs. 2,349.00
Regular price
Product Description
Additional Information
Reviews
DAILY RADIANCE VITAMIN C CLEANSER – Revitalize dull skin with powerful skin-brightening actives. Its powerful ingredients help turn back time by removing pigmentation, and sun damage. For a long-lasting glow, this power-packed serum is all you need.
VITAMIN C PURE BRIGHT FACE SERUM – A gentle deep-cleaning foaming cleanser should be a part of your daily beauty regimen. Vitamin C ensures dullness and wrinkles causing free radicals are kept in check and reverses the effects of aging and sun damage to reveal a spotless and even-toned complexion. Use this daily for a visibly clean and radiantly clear skin.
SKIN REJUVENATING MOISTURIZER – This lightweight moisturizer is the perfect choice for restoring skin's natural elasticity, glow and hydration. This cream gently clears the pores of dust, sun damage, makeup, excess oils and dead cells. The potent cocktail of Rosamine Vitamins and collagen boosting agents in this cream slows down skin aging, repairs years of damage and quickly restores youthful glow.
SKIN LIGHTENING LOTION – A gentle skin-lightening skin lotion that works from within the skin, as it nourishes the roots and removes years of skin damage effectively. This lotion is perfect for those looking to do away with agelines, sun damage, stubborn dark spots and freckles. For a radiantly beautiful and younger-looking skin, use this cell-nourishing lotion everyday.
Daily Radiance Vitamin C Cleanser
Vitamin C Pure Bright Face Serum
Skin Rejuvenating Moisturizer
Why Customers Love
Our Product :
Paraben-Free, Sulfate-Free, Silicon-Free, No Artificial Fragrance, GMO-Free, Cruelty-Free, 100% Vegan, Toxic-Free, Dermatologically Tested, PH 5.5, Made With ECOCERT COSMOS Certified Ingredient & USDA Organic Oils.
Perfect for daily usage. Avoid eye contours. For external use only.
Benefits
1. Gives Your Skin Natural Glow
Vitamin C serum helps your skin lighten and makes it glow naturally. Vitamin C serums can help smooth out fine lines by plumping and hydrating the under-eye area. – Although vitamin C is more effective at reducing overall redness, it also helps alleviate discoloration associated with under-eye circles. Kakadu plum in this serum reduces dark circles and puffiness around the eyes and also helps in reducing skin infections.
2. Might Lighten Dark Spots And Brighten Up Skin
Vitamin C based skin care products may lighten patches that are darker than the rest of your skin, called hyperpigmentation.
3. Protect Against Sun Damage
The antioxidants in vitamin c may help defend against the damage that UV light can cause.
This gentle and deep nourishing lotion packed with Vitamin C and Kojic acid helps lighten dark spots, reverses agelines and gives perfect complexion.
5. It Serves All Purposes
Our skin rejuvenating moisturizer serves all purposes like it brightens up skin tone, repairs skin cells damage, gives your skin a glowing look and hydrates your skin. It is an all in one product that is a must. 
6. Revitalize Cell Growth
Rosamine vitamin present in this cream increases oxygen flow making the skin firm and smooth. It also revitalizes cell regrowth and protects your skin from premature aging.
| | |
| --- | --- |
| Skin Concerns It Targets | Uneven Body Skin Tone, Dark Spots, Hyperpigmentation, Sun Damage, Dull Skin, Skin Soothing, Dry Skin, Skin Inflammation, Dark Elbow, Neck, Back, Knees, Dead Skin |
| Suitable For | All Skin Types |
| Hero Ingredients | Glutathione, Alpha Arbutin, Dermawhite, Actiwhite, Fermented Lactobacillus Pentosus, Rosamine Vitamin Cocktail, Mimiskin, Ferulic Acid, Kakadu Plum Fruit Extract, Vitamin C, β White |
| Glutathione | Glutathione lightens the skin and makes it glow. It also reduces the scars and stretch marks while providing nourishment to the skin. |
| Alpha Arbutin | Alpha arbutin reduces melanin formation thus reducing age spots and freckles. It effectively lightens and reduces the UV induced pigmentation and free radicals, without increasing sun sensitivity. |
| Dermawhite | Dermawhite stimulates skin and promotes collagen growth. It enhances the skin tone and treats hyperpigmentation. |
| Actiwhite | Actiwhite reduce age spots and evens out skin. It promotes long-term radiance and smoothly balances skin complexion. |
| Fermented Lactobacillus Pentosus | Fermented Lactobacillus Pentosus is a balanced microbe that helps to reduce eczema, dry skin and wrinkles. It improves skin's barrier and reduces acne. |
| Rosamine Vitamin Cocktail | Rosamine Vitamin Cocktail increases oxygen flow making the skin firm and smooth. It also revitalizes cell regrowth and protects premature aging and prevents irritation. |
| Mimiskin | Mimiskin preserves moisture, repairs complexion and brings up the natural barrier to optima condition. It helps to cleanse the effect of pollutants and gives high level of adhesiveness and compatibility to skin. |
| Ferulic Acid | Ferulic acid helps in healing skin and reduces dark spots. It protects the skin integrity and gives you firmer and more toned skin. It helps regenerate skin cells making the skin look brighter and younger. |
| Kakadu Plum Fruit Extract | Kakadu Plum Fruit Extract reduces the symptoms of aging, reducing dark circles and puffiness under the eyes. It helps in acne-reduction and is helpful in infection of skin causes itching, redness, rashes and even lesions in extreme cases. |
| Vitamin C | Vitamin C protects skin cells from getting damaged by UV exposure, It helps hyperpigmentation and evens out skin tone. It also prevents aging and enhances skin elasticity and youthfulness. |
| β White | β(Beta) White reduces the appearance of age spots and brightens the skin complexion. It helps to improve skin tone and is primarily age-defying. |